What is an Expository Essay?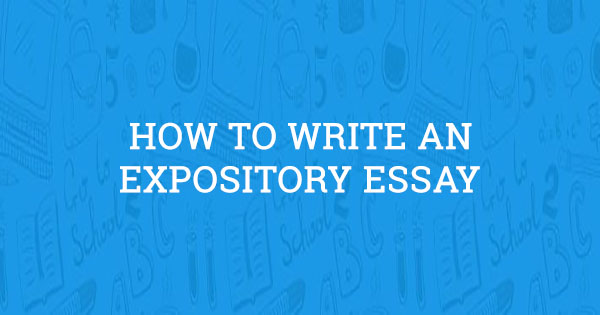 The expository essay is a type of essay where students are required to investigate an idea, event, or place. It also requires students to, evaluate evidence, expound on the idea, and set forth an argument concerning that idea clearly and concisely. Expository writing involves discussing the topic in detail and explains the main topic by presenting ideas in chronological order. If you need help in writing an excellent expository essay, you can seek professional help from unemployedprofessors writing service.
Features of an Expository Essay
An expository essay has the following characteristics:
Serves to describe and Explain
An expository essay is used in the description and explanation of a particular topic in depth.
This type of essay is used as a communication tool to pass information or inform.
It clarifies the writer's message.
The details and information in an expository essay are presented chronologically.
Information or details presented in an expository essay is not biased. The writer does not present his/her personal opinion and the information presented is authentic.
Types of Expository Essays
There following are the different types of expository essays:
Compare and contrast essay: It is a type of essay that involves comparing and contrasting two things. Learn to write a compare and contrast essay from unemployed professors.
Cause and effect essay: this type of essay tells how one event (the cause) leads to another event (the effect). In short, this essay tries to find out the causes of something and its effects on something.
Process essay: This essay explains and elaborates on the process of making or doing something.
Problem and solution essay: This essay presents a particular problem and provides possible or relevant solutions.
Classification essay:  It involves organizing things into categories and give relevant examples of things that are relevant to each category.
Definition essay: This essay defines the topic. A definition essay provides clear and specific information about the topic and uses examples for clarification.
Expository Essay Format
The format for most academic essays is generally similar. The general format includes an introduction, body paragraphs, and a conclusion. What makes essays different from each other is the purpose due to which they are written. A 5 paragraph expository essay follows the bellow format:
1. Introduction
A strong introduction should contain eye-catching phrases that will draw the attention of the readers.
Provide supporting points in a logical order that leads to the main ideas. The points and main ideas need to be supported by relevant facts and evidence.
Highlight your main ideas or thoughts and show the aim and relevance of writing your essay.
Provide background information or data that will enlighten and make your readers understand your subject and its significance.
Should be organized logically, clear, concise, and specific.
2. Body Paragraphs
Body paragraph 1:involves presenting the major point, its supporting evidence, and transition to the second body paragraph
Body paragraph 2: involves presenting the second main point, its supporting evidence, and transition to the third body paragraph
Body paragraph 3: involves presenting the third main point, its supporting evidence, and transition to the conclusion
3. Conclusion
Reinstate the thesis statement
Summarize all the main points
Break down complex ideas
Explain the importance of the paper
Provide solutions
How to Write an Expository Essay
Here is a step-by-step procedure of how to write an expository essay.
Choose an engaging expository essay topic
Create an expository essay outline
Write the introduction
Prepare the body paragraphs
Craft a compelling conclusion
Revise your essay
step 1. Choose a Topic
The basis for writing an engaging essay is a strong and captivating topic. Before you begin composing your essay, take your time in brainstorming and choosing a topic that is interesting and compelling enough to grab the attention of your audience. Choose a topic that concentrates on current events or affairs that are relevant to your audience.
An interesting topic is clear, concise, specific, intriguing, and relevant. Additionally, your topic should be informative, educating, and motivating to your audience. The main focus of your essay should be writing ideas that are; thought-provoking, daring, and have a clear point of view.
step 2. Create an Expository Essay Outline
An essay outline is where you structure and organize the main points into paragraphs so that it will be easier for you to write an essay. Creating an outline before writing your essay helps you to develop a logical, reasonable structure for your paper. Once you create an outline, you will have a clear direction and focus for your paper.
step 3. Write the Introduction
The introductory paragraph introduces your topic by giving your reader the direction of the essay and the ideas that you will discuss. The introductory paragraph also reveals the purpose of the article and usually ends with a thesis statement. Your introduction should capture the readers' attention by posing a question, pulling out an interesting fact, or creating a mystery that will make the readers want to continue reading.
When writing an intriguing essay, identify content that will be relevant to your readers. The key to satisfying your reader's need is to have a deeper understanding of your topic and create a hook sentence that will fulfill that need. Your hook sentence should keep your readers engaged from the beginning to the end.
step 4. Expository Essay Body Paragraphs
The purpose of the body in an essay is to develop the thesis or argument outlined in the introduction fully. Each paragraph in the body discusses one major point in the development of the main case. Readers will most likely be frustrated by large blocks of writing and end up skipping your article or essay. Lengthy paragraphs create confusion because there are no breaks between different ideas.
Knowing how to organize your ideas rationally through paragraphs will enhance the clarity and reliability of your document. Paragraphs provide structure and flow to your information or opinions. They allow you to transition from one idea to another. Starting a new paragraph signals to the reader that you are moving onto the next idea. Lack of structuring your ideas into paragraphs makes it challenging to follow and understand what you are trying to convey.
step 5. Write Your Expository Essay Conclusion
A conclusion is the last paragraph in your essay or research paper.  A conclusion is an essential part of writing an essay that provides a summary of the main content or ideas discussed in the essay. A good conclusion should more than just a summary of the main points but have the ability to convince the readers of certain arguments and explain the importance of your paper.
A good conclusion is the most important part of your paper and has the potential to affect the overall quality of your paper. If you are always struggling to compose a compelling conclusion, unemployedprofessors writing services should be your first choice. They guarantee you clear, well-structured, and compelling conclusions for your essay.
step 6. Revise Your Essay
Finally, it's crucial to revise your essay to ensure it's refined and meets the required standards. When revising your essay make sure to check the following:
Correct any spelling mistakes
Correct any grammatical errors
Correct the punctuation errors
Make sure that your essay is relevant
Check if your content has a logical flow
Check the sentence structure
Remove any irrelevant information
https://topstarsprofessors.com/wp-content/uploads/2020/08/Top2020-08-17-at-1.47.54-PM.png
0
0
twinp
https://topstarsprofessors.com/wp-content/uploads/2020/08/Top2020-08-17-at-1.47.54-PM.png
twinp
2021-12-22 08:25:39
2021-12-22 08:25:39
Beginner's Guide to Write an Expository Essay